GET

ual

byphone
Go to the App Store, search and GET ualbyphone.

ualbyphone is offered as a "digital download" for an Annual Subscripton of $14.99. Upon subscribing, you will have the first month as your FREE Trial Period to examine the full functionalities of ualbyphone. If you are not completely satisfied, just Cancel your Subscription at least 24-hours before the end of the Trial period. All subsequent Annual Subscriptions auto-renews unless cancelled at least 24-hours before the end of its period.

You can manage your subscription settings by viewing My Subscriptions in your Account Profile and clicking Manage Subscriptions.

Payments will be charged to your iTunes Account. Annual Subscriptions are required per platform (iOS or Android). They are transferrable to other devices only within the same platform on a single Account and NOT transferrable from one platform to the other.

ualbyphone is available for download on United's LINK device. You must be an active Annual Subscriber to enable this access. Click ENABLE ON LINK for full details.

See Terms of Use for full details.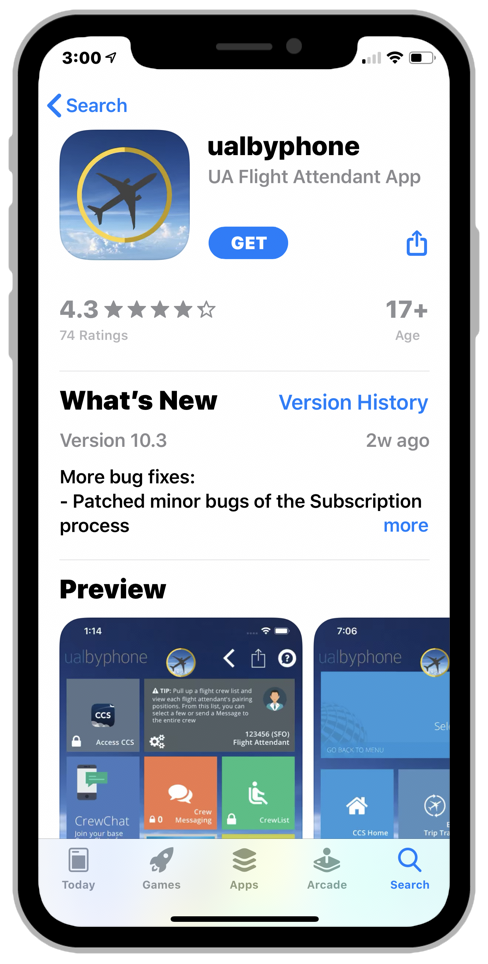 GET and subscribe to

ual

byphone
1
Click the App Store icon on your iOS device. Tap the Search button at the bottom menu and type
ual

byphone
- click GET.

2
Once downloaded, click Open and the Introduction pages of the app will display. You will be prompted to "Allow Notifications" - click Allow. Read through each of the Introduction pages or click Skip.
3
At the final introuduction page, you will be given three options to start your access with
ual

byphone
. If this is your first time accessing the app, follow the steps for
Transfer
or
Sign Up
.
Transfer
For previous
ual

byphone
users (subUA) or current subscribers from a different platform (ie: Android) - use this option to easily transfer your existing profile from our system. You will receive email confirmations upon a successful transfer.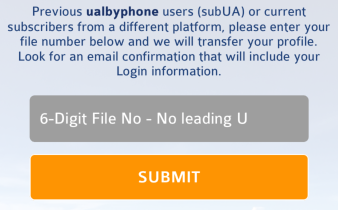 Sign Up
If you have never used
ual

byphone
in the past or unsure if you have, select this option and fill out the Sign Up form. Our system will confirm your information with United's system for employment validity.

Login
If you have an existing subscription on your iOS device and either performed a version update from the App Store or would like to Restore your existing Subscription from one iOS device to another - click
Login
. At the Restore Subscription page - click
Cancel
.
Click Restore if this is another iOS device in your iTunes account you would like the ualbyphone subscription activated.
See
Restore Subscription
for more details.

4
Upon a successful profile
Transfer
or
Sign Up
, you will be prompted with the Subscription page. Please read the Subscription disclaimer regarding your free trial period and cancellation options:
Upon subscribing, you will have the first month as your FREE Trial Period to examine the full functionalities of

ual

byphone. If you are not completely satisfied, just Cancel your Subscription at least 24-hours before the end of the Trial period. All subsequent Annual Subscriptions auto-renews unless cancelled at least 24-hours before the end of its period.
Click
SUBSCRIBE NOW
at the bottom of the page.

5
Upon clicking Subscribe Now, you will be prompted with the App Store confirmation of the Subscription. Depending on your device, you wil need to Confirm with Touch ID, Confirm with Side button or will be requested to enter your Apple ID password. If your iTunes account is not completely configured for InApp Purchases, you will be prompted for additional (Billing and/or CC) Information. Provide the information and the subscription will process successfully.
6
Once the subscription process by Apple is complete, the app will open to the main menu.
Welcome to

ual

byphone!